Here at DOWO Digital we use all sorts of tools to provide our customers with the best possible service. One of our favourite SEO Tools, Screaming Frog, has released a major update to their user interface, expanding to include some new features and crawling abilities which is great news for us and our clients!
Some of the highlights are:
Updated User Interface
The SEO Spider has ruined many an SEOs slide deck over the years, with its retro user interface, and it was finally deserving of an update. However, it retains the core usability and data led functionality of what made the old interface.
As you can see, it's a little more modern and has splashes of colour, but now also takes advantage of new technologies in the updated framework.
External Link Metrics Integration
A lot like URLprofiler you can now connect to Majestic, Ahrefs and Moz APIs and pull in external link metrics during a crawl of a site. This is extremely useful for performing a content audit, or quickly bulk checking link metrics against a list of URLs.
When you have connected to an API, link metrics will appear in real time, under the new 'Link Metrics' tab and in the 'Internal' tab, so they can be combined with all the usual crawl and analytical data.
It also now has an 'API' tab into the right-hand window pane, to allow us to keep an eye on API progress.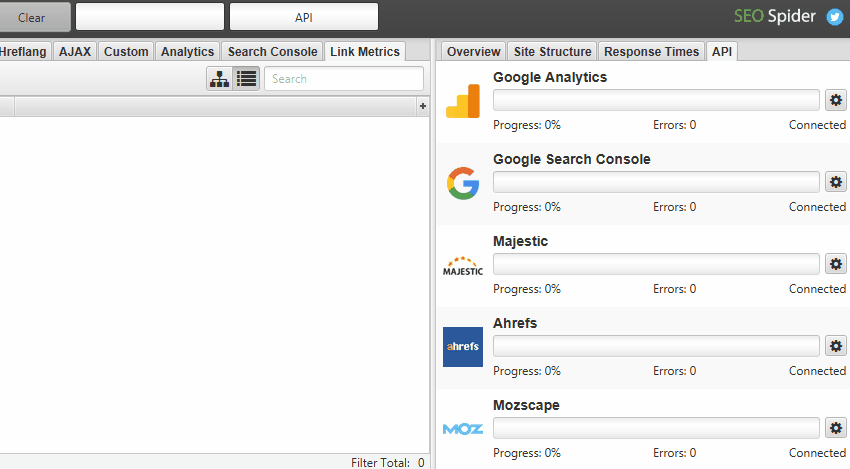 You need accounts with API access to link into these additional services. If you do not have accounts please speak to us here at DOWO, and we'll be able to help!
So you can pull in Moz metrics such as Page Authority, Domain Authority, or Spam Score and lots more.
Custom Configuration Profiles
You can already adjust and save your configuration to be the default, however, you are now able to create multiple custom configuration profiles and seamlessly switch between them which makes things much simpler when dealing with larger site and crawls. There isn't a limit to the number of profiles, you can create as many as you like. The custom configuration profiles are saved within your user directory, which means you can also copy and share your favourite custom configurations with colleagues for them to load and use.
JavaScript Redirects
The SEO Spider will now discover and report on JavaScript redirects, and support added to help identify client-side redirects.
While not strictly speaking a response code, they can be viewed under the 'Response Codes' tab and 'Redirection (JavaScript)' filter. Meta Refreshes are now also included within this area and treated in a similar way to regular server-side and client-side redirect reporting.
HSTS Support
HTTP Strict Transport Security (HSTS) is a server directive that forces all connections over HTTPS. If any 'insecure' links are discovered in a crawl with a Strict-Transport-Security header set, the SEO Spider will show a 307 response with a status message of 'HSTS Policy'.
The SEO Spider will request the HTTPS version as instructed, but highlight this with a 307 response (inline with browsers, such as Chrome), to help identify when HSTS and insecure links are used (rather than just requesting the secure version, and not highlighting that insecure links actually exist).
The search engines and browsers will only request the HTTPS version, so obviously the 307 response HSTS policy should not be considered as a real temporary redirect and 'a redirect to fix'. John Mueller discussed this in a Google+ post last year.
Hreflang Auditing In XML Sitemaps
The SEO Spider already extracts, crawls and reports on hreflang attributes delivered by HTML link element and HTTP Header, and will now do this for XML Sitemaps in list mode as well.
There's now an extra column under the 'hreflang' tab, for 'Sitemap hreflang' which allows users to audit for common issues, such as missing confirmation links, incorrect language codes, not using the canonical, and much more.
All of these updates make it quicker and easier to profile your site – if you need any assistance please contact the team here at DOWO – we'll happily complete a Free Digital Appraisal for you too.